Before Graphical User Interface (GUI) came along, using a personal computer was outrageously clunky.
To do anything, you'd type text commands into a command-line interface. You had to know the correct thing to write. And if you made a spelling mistake, well sir, you'd need to re-type it.
GUI allowed computing to go mainstream. Indeed, it's one of the major reasons we spend so much time on our devices today.
The origin story of GUI dates back to the 1970s. And it features no shortage of corporate skullduggery and missed opportunities.
GUI was pioneered by computer engineers at the Xerox Palo Alto Research Center (aka. PARC). But it was ultimately Apple and Microsoft who reaped the benefits, and brought GUI to the masses.
Where did the idea for GUI come from?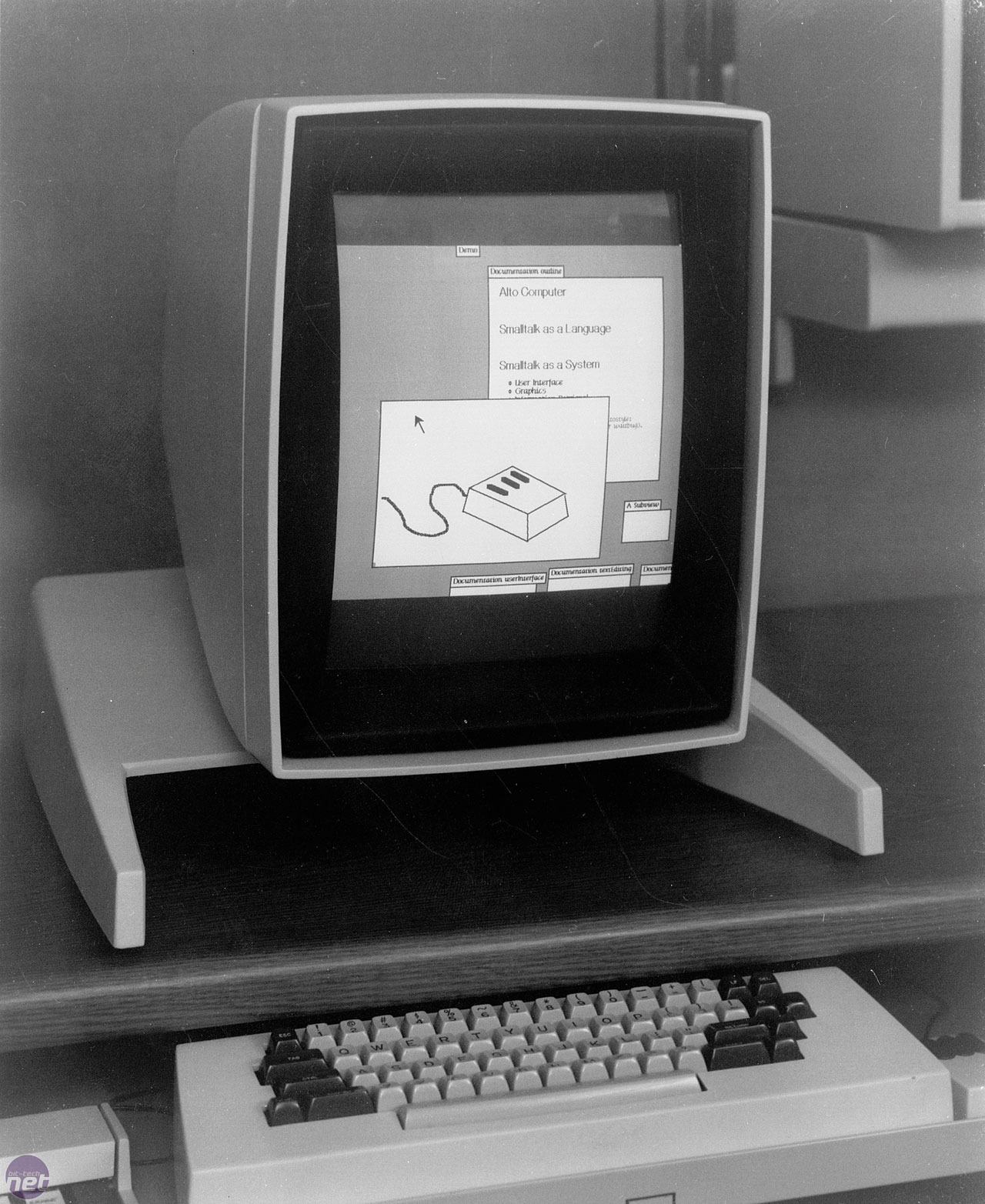 photo: Xerox PARC
GUI (pronounced "gooey") uses a computer's processing capabilities to display information. And to allow the user to access said information with greater ease.
GUI offers a drag-and-drop user interface. With visual representations of files and file structures for navigation.
Before we had a visual language for getting around computers, we had codes and commands.
Launched in 1980,MS-DOSis perhaps the best known example of a command-line interface OS. With its iconic UI of white-grey text on a black background.
MS-DOS organized your hard drive's content in a file system and allowed for the reading and writing of files. It did this in the same manner as any contemporary OS. Just without any visuals whatsoever.
This compact, basic OS had a very long life—support for MS-DOS was finally discontinued in 2001. Early versions of Microsoft Windows were actually all based on MS-DOS, with the human-friendly GUI interface built on top of the text-only OS (Windows ME, released in 2000, was the last version based on DOS).
Before Xerox PARC researchers got to work in the 70s, the basic idea of GUI had been circulating for some time. Indeed, the idea of making computers more visual, more tactile, and more accessible was explored by several visionaries.
In the 60s, computer pioneer Douglas Engelbart had conceptualized GUI. He envisioned a computer system that used hypertext, window-based OS, and videoconferencing. He also came up with the concept for the computer mouse.
Engelbart did this work at the Stanford Research Institute (SRI). The GUI prototype he designed was called the oN-Line system (NLS). NLS presented a brand new idea for a computerized information system.
(Video) How Steve Jobs got the ideas of GUI from XEROX
He showed it off during his 1968 'Mother of all Demos' in San Francisco.
That same year, computer scientist Alan Kay—who went on to work at Xerox PARC— defended his Ph.D. thesis about a new, visually-oriented computer programming language. EntitledFLEX: A Flexible Extendable Language, his work focused on making it easier for users to program computers themselves. In doing so, he gestured towards a future of mass computer literacy.
Kay's interest in making computers accessible would culminate in the object-oriented programming language known asSmalltalk.
Smalltalk was developed at PARC in the early 70s. It was targeted at children in particular.
Xerox PARC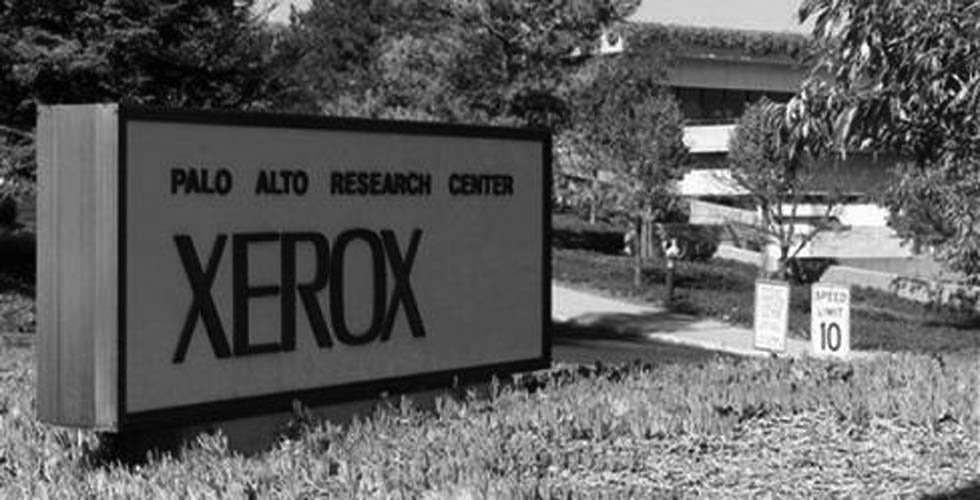 But conceptualizations and big picture thinking aside, Xerox PARC was where GUI finally found its way into a working product.
Opening its doors in the summer of 1970, the Xerox PARC research facility was conceived as a place where future tech was researched.
Xerox putunknown-yet-vital tech pioneer Bob Taylorin charge of PARC's Computer Science Laboratory (he led in this role from 1970 to 1983). Taylor had been the former director of DARPA's Information Processing Techniques Office.
They also hired some of the best and brightest computer engineers, scientists, and programmers around. Being in close proximity to Stanford University helped.
PARC quickly went on to change the world of computing, and the world in general, developing many of the technologies we use daily.
Engineer Lynn Conway joined PARC in 1973 after working for IBM. While there she co-developed the VLSI (very large scale integration) project with Carver Mead of Caltech. VLSI paved the way for CAD technology, BSD Unix, and more complexity in computing design.
Ethernet was also invented at PARC, by innovatorBob Metcalfe.
PARC alumni played a big role in developing the first laptop ever, theGriD Compass. Launched in 1982, it was built by a team overseen by John Ellenby and other former Xerox PARC engineers.
More pertinent to the topic at hand, in 1973, PARC's team developed theXerox Alto'personal' computer. It supported bit-mapped display, and window and icon-based GUI-based operating system, andWYSIWYG(What You See is What You Get) editor. It also had a mouse and keyboard, and an ethernet cable port.
Over the rest of the 70s, this computer and its GUI-based OS continued to evolve, providing the basic building blocks of personal computing.
The Xerox Alto and a major missed opportunity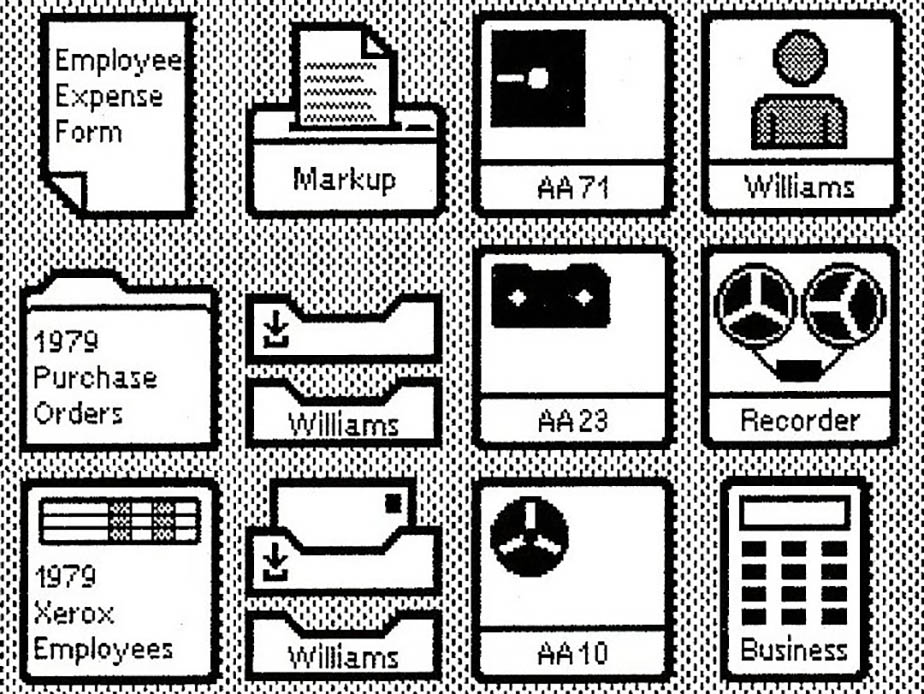 The Xerox Alto, despite being nominally defined as a 'personal' computer, was never actually sold as a proper mass commercial product. Only universities and research institutions ever bought them.
(Video) Xerox Star User Interface (1982) 1 of 2
Why is that?
To begin with, the machine cost well over $100,000 in today's dollars. As well, only 2,000 were ever built, owing to the fact that Xerox executives viewed the product as an overly expensive workstation.
Still, Xerox had about a big head start in the PC market. If Xerox had seriously invested in shrinking cost-per-unit, it's conceivable the company could have headed off Apple and Microsoft. They could have become become #1 in the home computing market.
Case in point, check out this1979 commercialfor the Alto.
It's all there—cursor-based, point-and-click UI, a window-based file system, and local area network/modem support for sending your files to other computers. Indeed, the commercial shows us the office of the future.
It was the first personal computer to showcase all this now ubiquitous computing tech.
So the question is: why did Xerox management totally blow this chance to mass-market GUI?
Here's one credible theory. There was a fundamental company culture rift between the Palo Alto facility and company HQ in Rochester, New York.
Managers were 3,000 miles away, in a more staid, traditional business hierarchy. It was hard for managers to give the alpha to the 'left-field' ideas of California computer hippies.
PARC scientists even coined a disparaging term for the execs—"toner heads."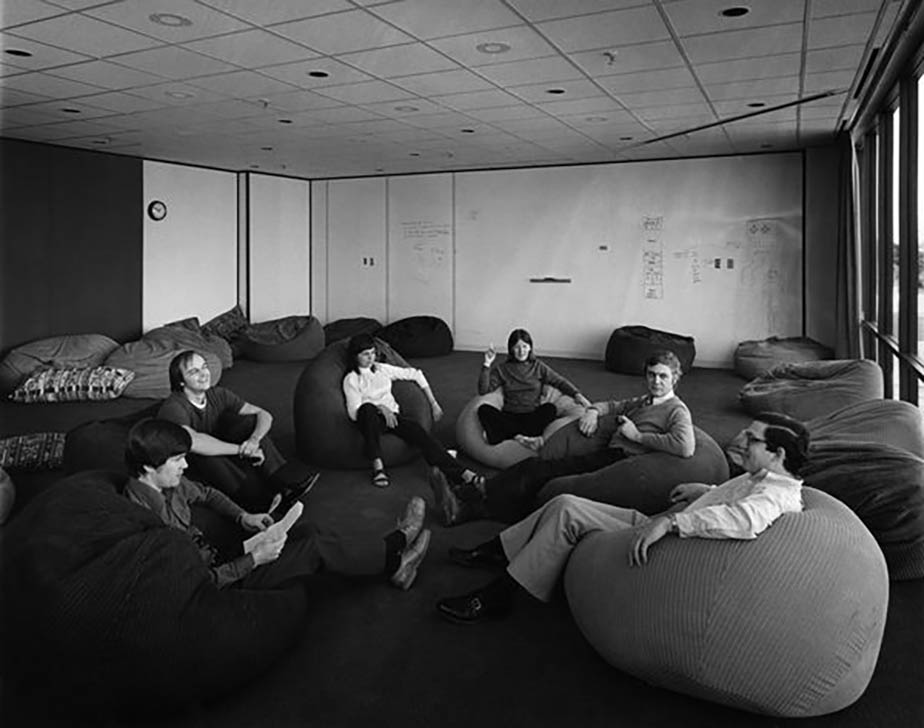 photo: Xerox PARC Computer Science Laboratory, Computer History Museum
Xerox Corporation had become very rich making photocopying and printing products. So there was a myopic fixation on product lines in those verticals. Laser printers and copiers ruled supreme.
Today Xerox seems significantly more enlightened. For example, in 2018 theypurchased the intellectual property portfolio for Thin Film. This allows them a leg up on smart packaging tech and being a big player in the Internet of Things.
Unfortunately, late 70s Xerox wasn't on that forward-thinking tip. Laser printing was everything.
The top brass's inertia created a huge game-opening for other Silicon Valley upstarts. Apple struck first.
The Apple of Enlightenment: Steve Jobs at Xerox PARC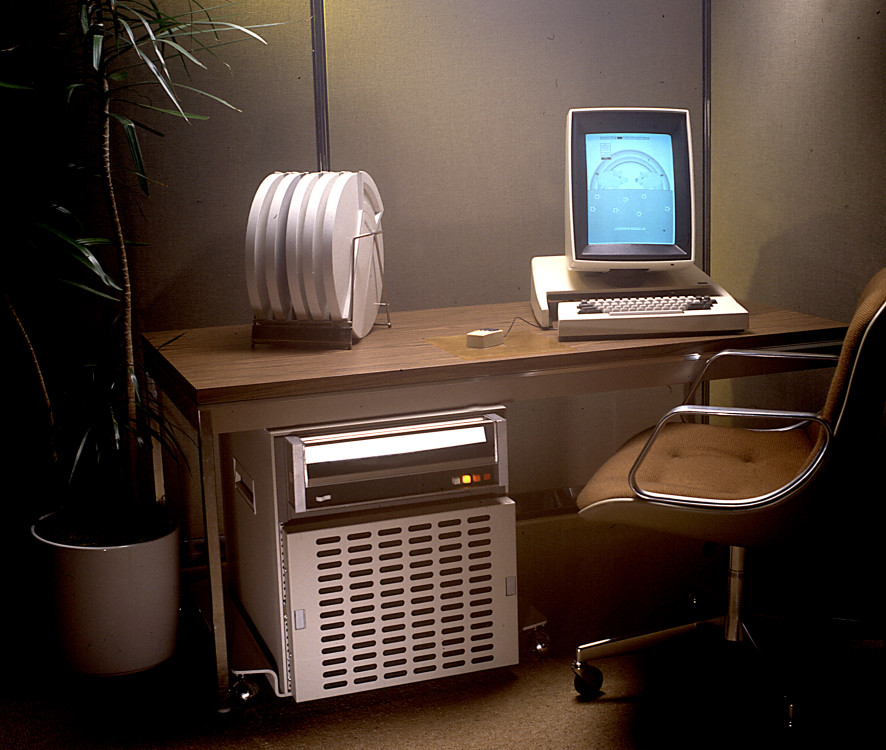 The story is legendary and is often simplified to this: in 1979, Jobs offered Xerox 100,000 shares of Apple to get a comprehensive tour of PARC for Apple engineers and himself. There he discovered the magical secret of GUI. Xerox engineers didn't realize the new technologies would be game changers.
(Video) PARC – exploring the history of modern computing
Of course,stories like this have a way of being simplified and mythologized.
The engineers at Xerox PARC knew their work had the potential to change the world. They'd known for years.
However, unable to get support for projects, there was a steady attrition of talent out of PARC over the course of the 70s.
By the time Jobs and company visited the site, the remaining trailblazer staff was all-too-happy to share their knowledge with receptive, open-minded people, and more than a few were likely already trying to jump ship. Indeed, some had already joined Apple pre-Jobs visit, while others had fled to Microsoft and other Silicon Valley companies.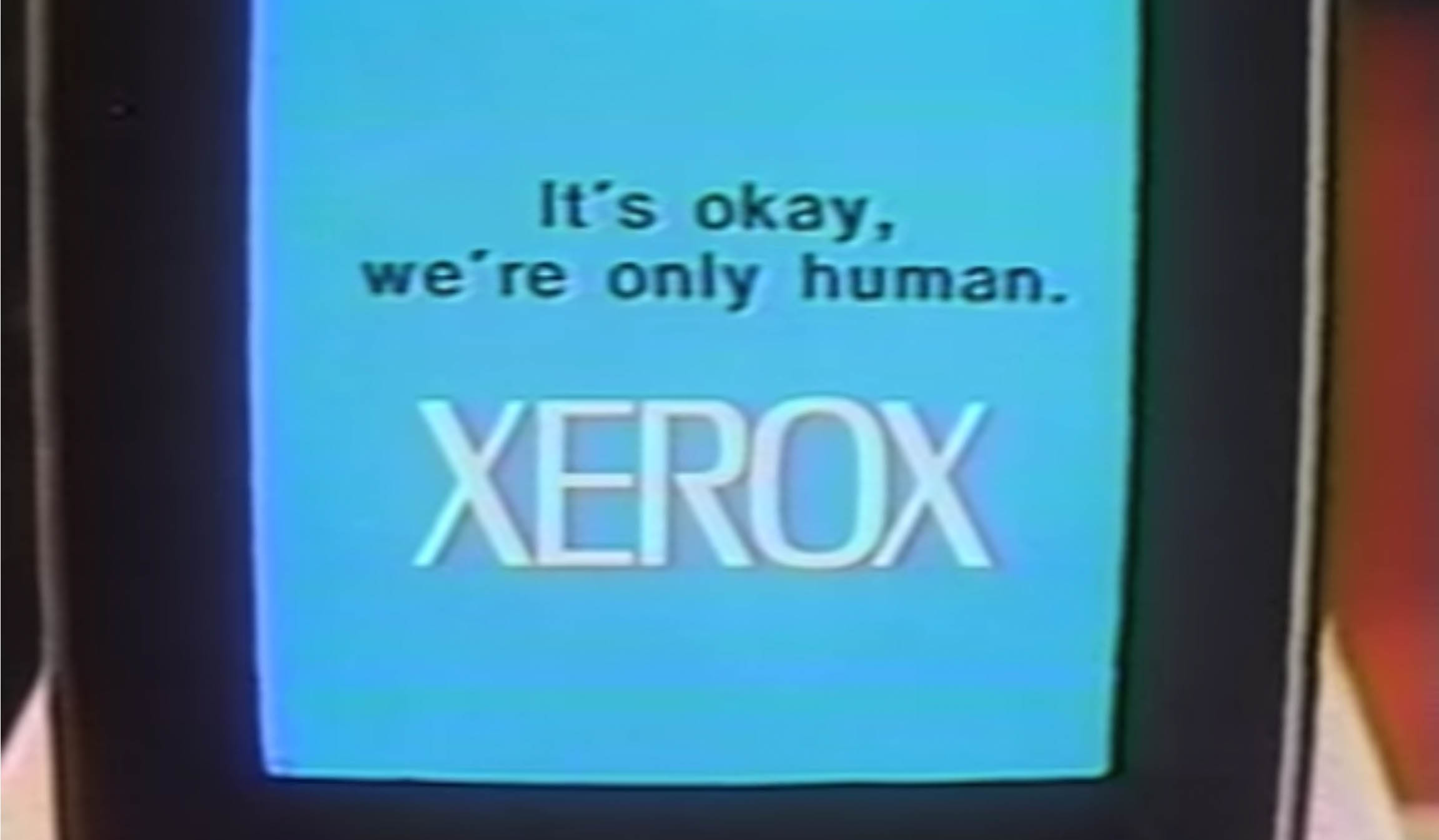 In 1981, Xerox released theXerox Star, which featured many of the user-friendly innovations that the Apple Macintosh would be fêted for three years later (GUI with icons and folders, and object-oriented design that actually surpassed Apple's initial effort). But like its predecessor, the Alto, it was simply way too expensive (over $45,000 in today's dollars at launch), and failed to find a market.
Meanwhile, Jobs "put a dent in the universe" with the original Apple Macintosh OS.
The original Mac OS: Macintosh System 1
In 1984, Apple released the Macintosh in the United States. It debuted with a price tag of $2,495 (just over $5,800 today). Not exactly cheap, but doable.
And with the help of some George Orwell-inspirediconic marketing, around 250,000 were sold in the first year.
It came preloaded with Apple's System 1 OS. The OS featured a clean, black and white, window and icon-based GUI. Centered on the traditional concept of a work desktop.
The Menu bar allowed you to access files, apps, and system features by clicking and scrolling. The 'Finder' app helped you...find things.
There was a calculator, an alarm clock, a notepad. And a control panel for adjusting things like volume, time/date, and mouse settings.
At the time, these features were absolutely remarkable.
Windows 1.0
One year later, in 1985, Microsoft rolled outWindows 1.0.
Microsoft was a major developer of productivity software for the Apple Macintosh, so Bill Gates and friends had gotten their hands on a beta version of the computer (and its OS) before launch. By all accounts, Gates was mesmerized, and immediately set to work developing a GUI-based OS to counter Mac's.
Windows 1.0 worked as a graphical shell that ran on-top of MS-DOS. Among other apps, it included a notepad, a calendar, an application named "Write" for word processing, and the first iteration of MS Paint. A menu in the corner of each window allowed window management between these various apps.
Truth be told, Microsoft didn't really perfect their take on the GUI formula until 1990, when they released the very popularWindows 3.0, but hey, you gotta start somewhere.
(Video) The Xerox Thieves: Steve Jobs & Bill Gates
A lawsuit makes GUI open source
Apple sued Microsoft in 1988 after the release of Windows 2.0, which they felt had gone too far, explicitly plagiarizing their visual displays and appropriating concepts without a license.
It was a hotly contested case. But in the end, the court ultimately ruled in favor of Microsoft.
This was due to two factors.
The first was the fact that Apple had earlier concluded a copyright agreement to license Mac design features to Microsoft Windows; somehow the Apple legal team had failed to appreciate the agreement applied toallfuture iterations of Microsoft Windows.
The second factor was that according to the "merger doctrine," basic ideas themselves could not be copyrighted. It was therefore legally fine to copy the "look and feel" of another program, provided that internal structures and functions were different. Apple was absolutelycrestfallen.
With this landmark ruling, GUI was free to run amok.
Has GUI run its course?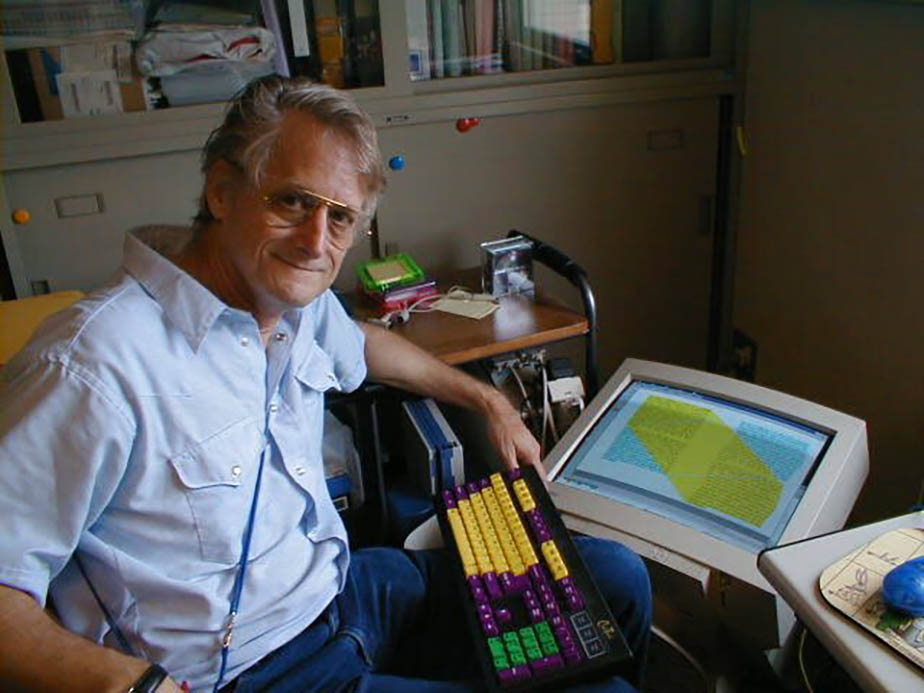 The advent of GUI made computers radically more accessible to the average person, certainly in terms of ease-of-use, but probably more critically in desire-to-actually-use. With GUI, it was possible to get past the startup screen without consulting a manual. That made all the difference in the world for novice users.
Today, GUI is so embedded in our daily lives we don't even consider it. Anyone under 40 has grown up with it as a fact of daily computer life.
That said, some critics suggest that GUI as we know it has run its course. Computing pioneerTed Nelson, for example, thinks it's outrageous that 40+ years later, we'restillall using Mac, Windows, and Google products that are essentially nicer versions of Xerox PARC's original OS.
Nelson also believes that GUI, in its mainstream iteration, stymies creativity by 'fixing' the spatial qualities of computing and replicating old hierarchies of files and work that have existed since the 19th century.
He may have a point—and in any case, things are indeedfinally, slowly moving away from GUI. We see this in multimodal UI, implemented in devices like the Amazon Echo Spot, where voice commands and GUI work in tandem.
Workaday spatial interfaces that incorporate VR and AR technology are on the horizon as well.
Spatial interface design has traditionally been the preserve of the gaming industry. But it's entirely possible it will eventually cross over into mainstream work tools.
Obstacles include the significant amount of computing resources consumed for 3D displays. And the need to further develop hardware peripherals to make the technology mainstream practical.
In the near term, what we're most likely to see are more so-called natural user interfaces (NUIs). Basically, more intuitive, 'invisible' GUIs that hide and minimize the operational complexities of UI further.
GUI is resilient. We're super familiar with it, and the general human tendency for problem solving is to find the quickest, most efficient solution—if it ain't broke, don't fix it.
(Video) The Story Of Xerox Parc
Still, almost half a century later, perhaps we're ready for a little change.
FAQs
In 1979, the Xerox Palo Alto Research Center developed the first prototype for a GUI.
The Xerox Alto is a computer designed from its inception to support an operating system based on a graphical user interface (GUI), later using the desktop metaphor. The first machines were introduced on 1 March 1973, a decade before mass-market GUI machines became available.
In 1973, Xerox PARC developed the Alto personal computer. It had a bitmapped screen, and was the first computer to demonstrate the desktop metaphor and graphical user interface (GUI).
Douglas Engelbart, (born January 30, 1925, Portland, Oregon, U.S.—died July 2, 2013, Atherton, California), American inventor whose work beginning in the 1950s led to his patent for the computer mouse, the development of the basic graphical user interface (GUI), and groupware. Engelbart won the 1997 A.M.
GUI operating system called the Alto and eventually introduced a commercial version called the Xerox Star in 1981.
A graphics-based operating system interface that uses icons, menus and a mouse (to click on the icon or pull down the menus) to manage interaction with the system. Developed by Xerox, the GUI was popularized by the Apple Macintosh in the 1980s.
Xerox PARC has been the inventor and incubator of many elements of modern computing: Laser printers. Computer-generated bitmap graphics. The graphical user interface, featuring skeuomorphic windows and icons, operated with a mouse.
The Xerox Alto was the first computer intended to aid an operating system with a graphical user interface (GUI), eventually employing the desktop concept.
Xerox's major downfall came in 1981 when they introduced the Xerox Star, a workstation produced with the sole purpose of managing documents was placed on the market for a whopping $16,000. Now, when this is compared to IBM's PC for business that was selling for $1,600, it's easy to guess which brand sold more.
This is where it all started for Windows. The original Windows 1 was released in November 1985 and was Microsoft's first true attempt at a graphical user interface in 16-bit.
A graphical user interface builder (or GUI builder), also known as GUI designer or sometimes RAD IDE, is a software development tool that simplifies the creation of GUIs by allowing the designer to arrange graphical control elements (often called widgets) using a drag-and-drop WYSIWYG editor.
As the potential for computers became increasingly apparent, the first graphical user interfaces (usually abbreviated to GUIs) were introduced in the early 1970s to try and mitigate the steep learning curve of command-line interfaces.
GUI is "graphical user interface" and UI is just "user interface." GUI is a subset of UI. UI can include non-graphical interfaces such as screen readers or command line interfaces which aren't considered GUI.
The main pieces of a GUI are a pointer, icons, windows, menus, scroll bars, and an intuitive input device. Some common GUIs are the ones associated with Microsoft Windows, Mac OSX, Chrome OS, GNOME, KDE, and Android.
GUIs were introduced in reaction to the perceived steep learning curve of CLIs (command-line interfaces), which require commands to be typed on a computer keyboard. The actions in a GUI are usually performed through direct manipulation of the graphical elements.
Answer: the four features of A Graphical User Interface (GUI) are constituted of four main parts – Windows, Icons, Menus and Pointer. They are also the Main Components of the Interface, also known as the WIMP system.
A GUI allows the user of a computer to communicate with the computer by moving a pointer around on a screen and clicking a button. There are many ways to move a pointer around the screen.
GUI is an interface that allows users to interact with different electronic devices using icons and other visual indicators. The graphical user interfaces were created because command line interfaces were quite complicated and it was difficult to learn all the commands in it.
Palo Alto Research Center (PARC) is a research and development company in the field of computer engineering, information technology and its related services.
The closest thing in the history of computing to a Prometheus myth is the late 1979 visit to Xerox PARC by a group of Apple engineers and executives led by Steve Jobs. According to early reports, it was on this visit that Jobs discovered the mouse, windows, icons, and other technologies that had been developed at PARC.
In the sixties and seventies Xerox's Palo Alto Research Company (PARC) invented just about everything you can imagine. That includes what was recognized as the first true PC – The Xerox Alto…
He coined the term Ethernet for the networking topology he created from the disproven "luminiferous ether", which was believed to be the transmission medium for electromagnetic waves. In the schematic he sent Xerox's management, the coaxial cable serves as the "ether" for data packets.
Fumbling the Future, by Douglas Smith and Robert Alexander, is a detailed analysis of Xerox's venture into the personal computer industry in the 1970s. Xerox, the undoubted leader in the photocopy business, experienced booming financial growth and no competitor stood a chance against the giant.
Steve Jobs did not steal much from Xerox. The visit to the PARC that day inspired him to improve what has already been discovered. This is how innovation works.
U.S. On December 31, 2016, Xerox separated its business process service operations, essentially those operations acquired with the purchase of Affiliated Computer Services, into a new publicly traded company, Conduent.
Xerox, in full Xerox Corporation, major American corporation that was a pioneer in office technology, notably being the first to manufacture xerographic plain-paper copiers.
Answer. Explanation: The first GUI edition of Windows operating system was introduced in 1985. It was Windows 1.0 .
In 4th generation GUI based operating system used. Explanation: A system of visual, interactive components for computer software is known as a GUI (graphical user interface).
The GUI interface has also been instrumental in making the World Wide Web easily accessible to individuals through the use of GUI-based "browser" programs. Netscape Navigator, Internet Explorer, and similar programs enable a user to access and search the Web using the familiar GUI format.
A graphical user interface (GUI) is a digital interface in which a user interacts with graphical components such as icons, buttons, and menus.
Any model can be used for GUI implementation among Waterfall, Iterative or Spiral Model.
Python has a lot of GUI frameworks, but Tkinter is the only framework that's built into the Python standard library. Tkinter has several strengths. It's cross-platform, so the same code works on Windows, macOS, and Linux.
A GUI program consists of three types of software: Graphical Components that make up the Graphical User Interface. Listener methods that receive the events and respond to them. Application methods that do useful work for the user.
The various types of user interfaces include: graphical user interface (GUI) command line interface (CLI) menu-driven user interface.
The basic GUI elements are: Check boxes. Buttons. Label buttons.
A GUI (graphical user interface) is a system of interactive visual components for computer software. A GUI displays objects that convey information, and represent actions that can be taken by the user.
The opposite of a graphical user interface is a text-based interface. With a text based interface, you would have to type on commands, and the computer would give you back text. Even after GUIs caught on for personal computers, text-based games remained popular for some time.
Answer. ide(integrated development environment) is basically a editor for programming language example-netbeans,jcreator , bluej,android studio etc. GUI (graphical user interface) is an interface of software which support graphics to easily interact with users.
The GUI was first developed at Xerox PARC by Alan Kay, Larry Tesler, Dan Ingalls, David Smith, Clarence Ellis and a number of other researchers. It used windows, icons, and menus (including the first fixed drop-down menu) to support commands such as opening files, deleting files, moving files, etc.
So where did the GUI come from, and who invented it? In 1979, the Xerox Palo Alto Research Center developed the first prototype for a GUI.
It is a friendly visual environment that allows the user to perform any action without having to have programming knowledge. An example of the GUI are the Windows, MacOs or Android environments, thanks to which commands can be sent through gestures or mouse movements, without the need to enter any code.
Xerox, in full Xerox Corporation, major American corporation that was a pioneer in office technology, notably being the first to manufacture xerographic plain-paper copiers.
In the sixties and seventies Xerox's Palo Alto Research Company (PARC) invented just about everything you can imagine. That includes what was recognized as the first true PC – The Xerox Alto…
Xerox PARC has been the inventor and incubator of many elements of modern computing: Laser printers. Computer-generated bitmap graphics. The graphical user interface, featuring skeuomorphic windows and icons, operated with a mouse.
Mark D. Weiser (July 23, 1952 – April 27, 1999) was a computer scientist and chief technology officer (CTO) at Xerox PARC. Weiser is widely considered to be the father of ubiquitous computing, a term he coined in 1988.
Xerox PARC computer scientists record the first video image on the first computer paint system – a graphics program and framebuffer computer. This paves the way for the earliest computer animations and later earns its inventors an Emmy and an Academy Award.
Xerox's failure to commercialize its own inventions was partly due to the disconnect between those ideas and its core business making copiers.
Alto for the first time combined these and other now-familiar elements in one small computer. Developed by Xerox as a research system, the Alto marked a radical leap in the evolution of how computers interact with people, leading the way to today's computers.
Did Jobs steal the idea of the mouse from Xerox? Not exactly. Xerox never owned the idea of the mouse. The researchers at the PARC had actually gotten the idea for the mouse from Douglas Engelbart a Stanford Research Institute researcher.
Xerox Exclusive Concurrent Multi-tasking Technology — Our products are the most productive in the world. Unlike others' equipment, our machines operate independently and concurrently, allowing you to scan while you're printing, print while you're copying, copy while you're faxing, and more.
Palo Alto Research Center (PARC) is a wholly owned subsidiary of Xerox Corporation and an integral part of Xerox's strategy for long-term research investment. Founded in 1970 as a part of Xerox Research, PARC was incorporated as an independent research business.
Palo Alto Research Center (PARC) is a research and development company in the field of computer engineering, information technology and its related services.
The closest thing in the history of computing to a Prometheus myth is the late 1979 visit to Xerox PARC by a group of Apple engineers and executives led by Steve Jobs. According to early reports, it was on this visit that Jobs discovered the mouse, windows, icons, and other technologies that had been developed at PARC.
Laptops, notebooks, smartphones, tablets, wearable devices, and sensors are ubiquitous computing devices (fleet management and pipeline components, lighting systems, and appliances).
In this paper, we have presented four essential technical challenges in ubiquitous computing: scale with respect to space and time; consistency, availability, and partitioning; power management; and interoperability.
On July 23, 1952, computer scientist Mark David Weiser was born. Weiser was chief scientist at Xerox PARC in the United States and is widely considered to be the father of ubiquitous computing, a term he coined in 1988.